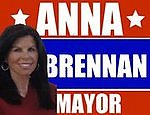 Long time Phoenix resident Anna Maria Brennan has filed her paper work as a candidate for Phoenix Mayor. Brennan, a mother of four and a business women is concerned about the direction the City is headed with ever increasing taxes, mayoral lack of concern for the police and fire personal needs, Federal Aviation Administration changes in flight patterns over the city's historic neighborhoods and an overall display of irresponsible leadership.
Brennan says this election will be about effective public policy and not political philosophy. Citizens are annoyed with ever increasing water bills, transportation tax increases and downtown parking meter rate increases that make it very costly to transact governmental or private business transactions.
Anna was born in Sicily and while a child came to America where she and her family became citizens. As a young woman Anna understood that America was truly the "Land of Opportunity" and opened a family restaurant and later received a nursing degree from Marquette University in Milwaukee (a private , coeducational Jesuit, Catholic University).
"One of the things I've learned as an immigrant is the value of hard work and tenacity". She's spent time working as a waitress, theatre attendant, grocery store clerk, flight attend, registered nurse and business owner. "I'm anxious to role up my sleeves to serve the people of Phoenix on the issues important to them. I'm beginning my listening tour immediately."
Maricopa County Republicans Has NOT received any compensation to post this information,it is a courtesy post